In addition to the scientific program, the conference offered the opportunity to meet colleagues at various informal occasions.
Welcome Reception

The meeting started with an informal welcome reception at the Conference Centre. The Welcome Reception was hosted by the board of the University of Nijmegen.
Buffet Dinner and Guided Tour in the National Heritage Museum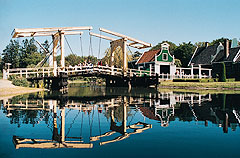 The Local Organizing Committee of Measuring Behavior 2000 arranged a unique visit to the National Heritage Museum at which the delegates could discover how the Dutch have been living and working since 1600. For centuries farmers and agricultural laborers played a major role in the Dutch economy. Delegates took a peek in a dairy farm or a turf hut from the Northern region, and discovered the ambience of the past.
Buffet Dinner and Boat Trip on the Nostalgic Steamboat Brandaris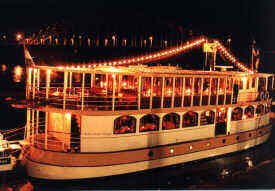 The Local Organizing Committee of Measuring Behavior 2000 welcomed the delegates on board Steamboat Brandaris. The soft furnishing, mahogany carpentry and brasswork give the boat a nostalgic character and took the delegates back to the 1920s. And with a sign of the the steam whistle, a beautiful trip on the river Waal and a special 'officers' buffet commenced.
Farewell Drinks

After the final session of Measuring Behavior 2000 it was time to say goodbye again. It was also a good moment to evaluate the conference with all delegates during the farewell drinks.
---
Last updated:1 November 2000