Measuring Behavior '98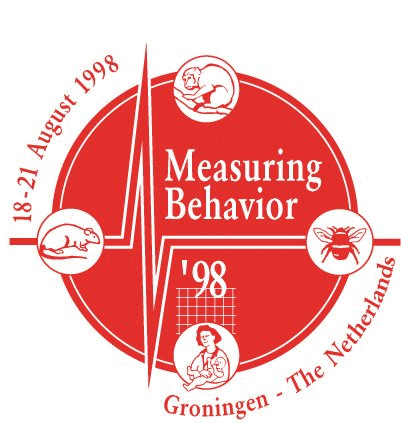 2nd International Conference on Methods and Techniques
in Behavioral Research

Groningen, The Netherlands
18-21 August 1998
Proceedings
Measuring Behavior '98, the 2nd International Conference on Methods and Techniques in Behavioral Research was held at the University of Groningen, The Netherlands, 18-21 August 1998. With almost 300 delegates from 32 countries, the meeting was a great success. The conference offered a variety of ways to gather and exchange information. The scientific program consisted of oral presentations, poster sessions, demonstrations and scientific tours. What made Measuring Behavior '98 extra special were the technical training sessions, user meetings and a unique video digitization service. There was also an exhibition of scientific books, instruments and software. Of course, a pleasant social program was included as well. And after the meeting, delegates explored Groningen and surroundings on one of the post-conference excursions. If you want to taste the atmosphere during and after the meeting, take a look at the photo gallery!
Integration of Behavior and Physiology
Measuring Behavior '98 devoted special attention to the integration of advanced behavioral research with physiological measurements. With "integration" we refer to the measurement of behavioral characteristics combined with in vivo (non-invasive) recording of the dynamic changes in time of physiological parameters. Exciting new developments in both the behavioral and physiological sciences make such an integration feasible. The development of techniques and generic software tools can form a bridge between disciplines, which are often unaware of techniques already available in other fields. For example, data analysis methods stemming from ethology are now being used by applied psychologists, and path analysis techniques originally designed by entomologists are equally useful for behavioral pharmacologists studying rodents. Moreover, recent developments in radiotelemetry, brain imaging, chip technology and biosensor techniques originally used by physiologists are now being used for simultaneous recording of physiological processes and behavior. To this end, Measuring Behavior '98, just as in 1996, served as a common ground for crossfertilization of research disciplines.
Conference Venue

Measuring Behavior '98 was be held at the Center for Biological Sciences of the University of Groningen in Haren, The Netherlands. The conference was hosted by prof. dr. J.M. Koolhaas of the Department of Animal Physiology. The university, founded in 1614, is the second oldest of the country. Featuring a historic city center with great outdoor terraces and located close to the Wadden Sea, one of Europe's most beautiful wetland nature areas, Groningen was an excellent venue for our conference.
More Information
Click on one of the links below for more information about the conference:
---
Conference Secretariat: mb98@noldus.nl
&copy 1998 Noldus Information Technology b.v.
Last updated: 29 March 2000