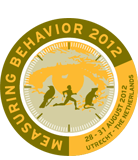 You are here
Social events
In addition to the scientific program, the conference offers the opportunity to meet colleagues, friends, and clients at informal occasions.
---
Welcome reception
Date: Tuesday, 28 August 2012
Time: 17:30
Venue: Botanic Gardens Utrecht
Fee: No extra charge
The welcome reception will take place at the lovely Botanic Gardens in Utrecht. During the welcome reception you can register for the conference, enjoy a drink, and meet international colleagues and friends.
---
Conference dinner 
Date: Wednesday, 29 August 2012 
Time: 18:00
Fee: No extra charge
This year a conference dinner is included in the registration fee! The restaurant is located in an old hostel, and many original features have been preserved. 
Drinks are included. Transport to the restaurant will be arranged if necessary.
---
City tour & dinner at the wharf
Date: Thursday, 30 August 2012
Time: 18.00-22.00 h
Fee: EUR 50
Transport: A bus will depart from De Uithof at 17.30 h pm. If you are not using our transport, make sure to be at the start point between 17.45-18.00 h pm. Transport back to hotels will (in principal) not be arranged since most hotels are located in the city center.
The city walk takes in the Utrecht hotspots, such as the Dom tower, canals, wharves, churches and typical alleyways. Additional historic information is provided about Utrecht and what makes it such a special city; perfect for those who are not yet acquainted with it. After a 1,5 hour walk you can enjoy a three course dinner at a restaurant.
All courses can be chosen beforehand. 3 drinks are included. 
---
Farewell drinks
Date: Friday, 31 August 2012
Time: 16:30
Fee: No extra charge
Time to say goodbye. Evaluate the conference and exchange final contact information with your colleagues during a farewell drink.
---
Social events might be subject to change