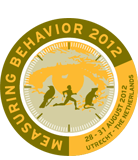 You are here
Presentations: Index by Author
This page lists all accepted oral presentations and posters presented by conference participants, ordered alphabetically by first author.
A
Aa, N., van der; Noldus, L.; Veltkamp, R.
Video-Based Multi-person Human Motion Capturing
Addessi, A.R.; Ferrari, L.
Observing Flow in Child/Music Machine Interaction 
Agrillo, C.; Miletto Petrazzini, M.E.; Piffer, L.; Dadda, M.; Bisazza, A.
Fish as a Model to Study Non-verbal Numerical Abilities 
Akker, H. op den; Jones, V.M.; Moualed, L.S.; Hermens, H.J.
A Context-Aware Adaptive Feedback Agent for Activity Monitoring and Coaching
Alders, M.; Hemert, J.M. van; Pauwelussen, J.; Heffelaar, T.; Happee, R.; Pauwelussen, J.
Managing Driver Workload Using Continuous Driver Workload Assessment 
Alizadeh, S.; Kanis, M.; Veenstra, M.
Itour: Using Ambient Intelligence to Support Tourism 
Arakawa, T.; Takahashi, A.; Tanave, A.; Kakihara, S.; Kimura, S.; Sugimoto, H.; Shiroishi, T.; Tomihara, K.; Koide, T.; Tsuchiya, T.
A Markov Transition Score for Characterizing Interactive Behavior of Two Animals and its Application to Genetic Background Analysis of Social Behavior of Mouse 
B
Bandini, S.; Gorrini, A.; Manenti, L.; Vizzari, G.
Crowd and Pedestrian Dynamics: Empirical Investigation and Simulation 
Becker, N.; Jones, M.W.
Neural Correlates of a Spatial Learning Task in Parietal Cortex, Prefrontal Cortex and Hippocampus 
Belviranlı, M.; Nurullahoğlu Atalık, K.E.; Okudan, N.; Gökbel, H.
Age, Sex and Anxiety Affect Locomotor Activity in Rats 
Belviranlı, M.; Nurullahoğlu Atalık, K.E.; Okudan, N.; Gökbel, H.
Effects of Age, Sex and Anxiety on Spatial Learning and Memory in Rats 
Berolo, S.; Steenstra, I.; Amick III, B.C.; Wells, R.P.
A Comparison of Two Methods to Assess Mobile Hand-Held Communication Device Use 
Beun, R.J.
The Role of Behavior Measurement in Persuasive Settings
Bianchi-Berthouze, N.
What Can Body Movement Tell Us About Players' Engagement?
Boughorbel, S.; Bruekers, F.; Groot, K. de
Pressure-Sensor System for Sleeping-Posture Classification 
Bredero, M.D.
School Safety Architecture – How to Measure Perceptions of Safeness 
Broek, E.L. van den
On Making Engagement Tangible
Buske, C.; Gerlai, R.
Diving Deeper into Zebrafish Development of Social Behavior: Analyzing High Resolution Data 
Bussey, T.
The Touchscreen Cognitive Testing Method for Mice and Rats 
C
Casarrubea, M.; Magnusson, M.S.; Roy, V.; Arabo, A.; Sorbera, F.; Santangelo, A.; Crescimanno, G.
Temporal Patterns of Rodent Behavior in the Elevated Plus Maze Test 
Casarrubea, M.; Magnusson, M.S.; Roy, V.; Arabo, A.; Sorbera, F.; Santangelo, A.; Crescimanno, G.
Temporal Patterns of Rodent Behavior in the Elevated Plus Maze Test (poster) 
Craenendonck, H. van; Donck, L. ver; Pemberton, D.J.
Rodent Fear Conditioning: Development and Pharmacological Validation of a Video-Based Freezing Detection System
Cremers, P.W.F.H.; Geutjes, S.L.
The Cause of Stereotypic Behaviour in a Male Polar Bear (Ursus Maritimus) 
Cristani, M.
Social Computer Vision for Group Behavior Analysis 
Crüts, B.; Römkens, P.
Quantitative EEG for the Diagnosis of Disease States 
D
Damveld, H.J.; Happee, R.
Identifying Driver Behaviour in Steering: Effects of Preview Distance
Deguil, J.; Bordet, R.
Evaluating MCI in AD Patients and the Effect of Symptomatic Drug Treatment 
Delgado, C.; García, R.; Navarro, J.I.; Hinojo, E.
Functional Analysis of Challenging Behaviours in People with Severe Intellectual Disabilities Using The Observer XT 10.0 Software 
Diana, B.; Zurloni, V.; Elia, M.
Imposing Cognitive Load to Unmask Prepared Lies: A Recurrent Temporal Pattern Detection Approach 
Dix, S.L.; Billa, S.; Delotterie, D.; Dorner-Ciossek, C.; Gartlon, J.; Jacobs, T.; Jones, C.A.; Lerdrup, L.; Marti, A.; Talpos, J.C.
The Use of Touchscreens as a New Tool in Mouse MCI Profiling
Dolado, R.; Quera, V.; Beltran, F.S.
A-KinGDom Program: Agent-Based Models for the Emergence of Social Organization in Primates 
Dorsselaer, P. van; Mcinnes, E.H.; Talpos, J.; Steckler, T.
The 5 Choice Continuous Performance Task: Translation to a Touch-screen Paradigm 
E
Eivazi, S.
Measuring Situation Awareness of the Microneurosurgeons 
Erp-van der Kooij, E. van; Almalik, O.; Eerdenburg, F.J.C.M. van
Lying Behaviour of Dairy Cows in Cubicles 
Evert, F.K. van; Nieuwenhuizen, A.T.
Obstacle Detection for Autonomous Vehicles in Agriculture 
F
Fabene, P.F.; Bertini, G.; Pellitteri, M.; Moscardo, E.; Salvetti, B.; Schio, F.; Chakir, A.; Tognoli, C.
Video-Based Analysis of Fear Conditioning: A Validation Test 
Fedderwitz, F.; Björklund, N.; Ninkovic, V.; Nordlander, G.
Pine Weevil (Hylobius abietis) Feeding Pattern on Conifer Seedlings 
Feese, S.; Arnrich, B.; Tröster, G.; Meyer, B.; Jonas, K.
Automatic Clustering of Conversational Patterns from Speech and Motion Data 
Feistritzer-Gröbl, P.; Nischelwitzer, A.; Saraph, V.; Holzer, H.
Game Based Physiotherapy for Treatment of Children with Juvenile Idiopathic Scoliosis 
Fekas, D.; Zimmerman, P.; Braak, C.J.F. ter
Data Fusion by Kernel Combination for Behavioral Data 
Fellini, L.
How Can a Touch-screen Based Visual Discrimination Help to Better Characterize Rodent Models of Schizophrenia?
G
Gaalen, M. van; Appl, T.; Bespalov, A.
Measuring Social Behavior in Drug Discovery 
Gerlach, G.; Hinz, C.
Olfactory Signals Involved in Kin Recognition in Zebrafish 
Gerlai, R. 
Fish in Behaviour Research: Unique Tools with a Great Promise! 
Gerlai, R.
Social Affiliation in Zebrafish: From Synthetic Images to Biological Mechanisms 
Golani, I.; Gakamsky, A.; Oron, E.; Valente, D.; Mitra, P.P.; Segal, D.; Benjamini, Y.
The Coordination between the Direction of Progression and Body Orientation in Normal, Alcohol- and Cocaine Treated Fruit Flies
Gorbunov, R.D.; Barakova, E.I.; Ahn, R.M.C.; Rauterberg, G.W.M.
Monitoring Facial Expressions During the Mars-500 Isolation Experiment 
Groot, K. de; Boughorbel, S.; Ambroise, N.; Buter, M.; Kang, J.; Loke, B.; Spreeuwers, L.; Vandenabeele, J.
Multimodal Sensing System to Enhance the Safety of Infants in the Home Environment 
H
Haakma, R.; Beun, R.J.
Unobtrusive Sleep Monitoring
Hammerschmidt, K.; Wadewitz, P.
Categorizing Vocal Repertoires of Nonhuman Primates 
Happee, R.; Damveld H.J.; Abbink, D.A.; Paassen, M.M. van; Mulder, M.
Driver and Pilot Identification and Model Parameter Estimation; Modelling the Visual, Vestibular, and Neuromuscular Control Loops Describing Driver and Pilot Behaviour
Harst, J.E. van der; Spruijt, B.M.
Automated Assessment of Animal Health and Wellbeing 
Hawkins, P.
Progress in Assessing Animal Welfare in Relation to New Legislation: Opportunities for Behavioral Researchers 
Helmich, I.; Lausberg, H.
Hand Movement Behavior with or without Speech Differs in its Kinetic Structure of Nonverbal Communication 
Hentzen, M.; Hovden, D.; Jansen, M.; Essen, G. van
Design and Validation of a Wireless Temperature Measurement System for Laboratory and Farm Animals 
Hilber, P.; Lorivel, T.
Measure of Anxiety and Exploration Behaviours in Cerebellar Mice Using a Simple and Unique Apparatus: Influence of Habituation on Behavioural Disinhibition 
Hintermüller, C.; Edlinger, G.; Guger, C.
Generic Tool for Online Classification of Physical and Mental Workload 
Hoogeboom, A.M.G.M.; Wilderom, C.P.M.
Behavioral Dynamics (in Staff Meetings): What Patterns Lead To Success? 
Hörsten, S. von; Plank, A.C.; Urbach, Y.; Canneva, F.
Combining Classical and Automated Neurophenotyping in Mice and Rats 
Hung, H,; Poppe, R.; Sturm, J.
Measuring behaviour in open spaces 
I
Iborra-Bernad, C.; Wathelet, O.; Giboreau, A.
Measuring Bread Use in a French Restaurant. A Naturalistic Approach: Grid Analysis for the French Culture 
J
Jirkof, P. 
Monitoring Burrowing and Nest Building Behavior as Species-specific Indicators of Animal Wellbeing 
Joosten, B.; Postma, E.; Krahmer, E.; Swerts, M.; Kim, J.
Automated Measurement of Spontaneous Surprise 
K
Kircherm, K.; Ahlström, C.
Can We Trust Driver Behaviour Assessment? Examples from Research in Simulators and in the Field
Klaassen, R.; Akker, R. op den
Inter-usability and the Presentation of Multi-modal Feedback for Physical Activity and Diabetic Type II Patients 
Klonek, F.E.; Kauffeld, S.
Sustainability Goes Change Talk: Can Motivational Interviewing Be Used to Increase Pro-Environmental behavior?
Kloth, K.J.; Thoen, M.P.M.; Bouwmeester, H.J.; Jongsma, M.A.; Dicke, M.
High-Throughput Phenotyping of Plant Resistance to Insects 
Koldijk, S.J.; Neerincx, M.A.; Kraaij, W.
Unobtrusively Measuring Stress and Workload of Knowledge Workers 
Kooi, F.L.; Ledegang, W.D.
Dealing with False Alarms in Camera Surveillance 
L 
Lafuente, D.; Bellés, M.; Gonzalo, S.; Domingo, J.L.; Linares, V.
Internal Low Dose Ionising Radiation in Pregnant Mice: Behavioral Effects in the Offspring 
Lange, F.; Bosse, S.; Eggert, F.
Approaching Real World Behavior: Enhancing External Validity of Psychological Research 
Lange, M.; Norton, W.H.J.; Chaminade, M.; Vernier, P.; Lesch, K.P; Bally-Cuif, L.
Zebrafish Assays to Measure ADHD Endophenotypes 
Leach, M. 
The Assessment of Pain Using Facial Expressions in Laboratory Rodents 
Leeuwen, P.M. van; Winter, J.C.F. de; Happee, R. 
Can we Discriminate Safe and Unsafe Visual Scanning in Multitask Driving Conditions?
Lewejohann, L.; Grauthoff, S.; Heiming, R.S.; Jansen, F.; Kaiser, S.; Schmitt, A.G.; Sachser, N.
Different Spatial Learning Performance of 5-Htt Knockout Mice on Land or Water 
Linden, A.M.; Procaccini, C.; Lehtomäki, M.
Do Outbred ICR:CD1 Mice Form Attentional Sets in a Bait Digging Attentional Set-Shifting Procedure? 
Lindenthal, M.
Eliciting Control Errors and Measuring Error Correlates 
Lukas, M.; Toth, I.; Neumann, I.D.
Central Neuropeptides Social Recognition, Social Preference and Social Fear in Rodents 
M
Mahieu, M.; Willems, R.; Hoekstra, L.; Donck, L. ver
Automated Detection of Aberrant Behaviour of Mice on the Rotarod: Use of EthoVision XT® 
Malik, J.A.; Koot, H.M.
Validating the Cross-Validation: A 3-Dimensional Model for Multiple Informant Data (3D-MMID) 
Malinova, M.; Filova, B.; Babickova, J.; Tothova, L.; Ostatnikova, D.; Celec, P.; Hodosy, J.
Rapid Behavioral Effects of Sex Hormones in Rats 
Manolov, R.; Solanas, A.
Assigning and Combining Probabilities in Single-Case Studies 
Mar, A.C.; Alsiö, J.; Haddenhorst, A.; Wallis, C.U.; Trecker, A.; Saksida, L.M.; Bussey, T.J.; Robbins, T.W.
Assessment of Behavioural Flexibility and Executive Function Using Novel Touch Screen Paradigms 
Marina, R.; González, P.; Barrio, J.P.
Effect of Quercetin on the Short-term Impairment of Learning Induced by X-rays in Wistar Rats. Nonlinear Regression Analysis of Morris Water Maze Latencies 
McCormick, W. 
Recognising and Assessing Positive Welfare: Developing Positive Indicators for Use in Welfare Assessment 
Melis, V.; Riedel, G.; Harrington, C.R.
Spatial Learning Characteristics of Transgenic Mice as Revealed by Detailed Video-Analysis Using EthoVision 
Moscardo, E.; Salvetti, B.; Becchi, S.; Bertini, G.; Fabene, P.F.
The Novel Object Recognition Test in Rodents: Which Are the Essential Methodological Aspects? 
N
Neufeld, C.
Speech Inversion with Acoustic Classification 
Nijholt, A.; Vinciarelli, A.
Measuring Engagement: Affective and Social Cues in Interactive Media
Nimwegen, C. van; Oostendorp, H. van; Serlie, A.; Modderman, J.
Assessing the Personality Trait Compliance in a Game Context 
Noordzij, M.; Scholten, P.; Laroy-Noordzij, M.
Measuring Electrodermal Activity of Both Individuals With Severe Mental Disabilities and Their Caretakers During Episodes of Challenging Behavior 
O
Oczak, M.; Costa, A.M.; Ismailova, G.; Sonoda. L.T.; Fels, M.; Hartung, J.; Guarino, M.; Viazzi, S.; Berckmans, D.; Vranken, E.
Analysis of Sequences in Aggressive Interactions of Pigs for the Development of an Automatic Aggression Monitoring and Control System 
Orlov, P.A.; Ivanov, V.M.
Assessment of Level of Professional Competence of Programmers 
P
Paranjpe, D.A.; Cooper, R.D.; Patten, A.; Sinervo, B.
Measuring Thermal Profile of Reptiles in Laboratory and Field 
Pasch, M.; Landoni, M.
Building Corpora of Bodily Expressions of Affect 
Pelkowski, S.D.; Richendrfer, A.H.; Colwill, R.M.; Creton, R.
Automated Analyses of Behavior in Zebrafish Larvae 
Pellitteri, M.; Colavito, V.; Moscardo, E.; Schio, F.; Salvetti, B.; Bentivoglio, M.; Fabene, P.F.; Bertini, G.
New Insight for the Study of Mild Cognitive Impairment: The Novel Object Recognition Task and the Single Day Morris Water Maze in Total Sleep Deprived Rats
Platt, B.; Wicke, K.
Electrophysiological Correlates of Behaviour 
Plucinska, K.; Strachan, L.; Peeters, D.; Platt, B.; Riedel, G.
Social Transmission of Food Preference in C57BL/6 Mice 
Poppe, R.; Heffelaar, T.; Bieger, J.
Technical Support for Analysis of Human Error in Task Performance 
Postma, M.; Postma, E.
Individual Differences in F0 Imitation: Causes and Effects 
Putze, F.; Schultz, T.
Cognitive Technical Systems 
R
Ravignani, A.; Tecumseh Fitch, W.
Sonification of Experimental Parameters as a New Method for Efficient Coding of Behavior 
Reidsma, D.; Tetteroo, D.; Nijholt, A.
Making Ambient Spaces into Playgrounds
Rhaman, A.; Pifferi, F.; Languille, S.; Picq, J.L.; Aujard, F.
The Circular Platform Task for Evaluation of Mci in the Grey Mouse Lemur (Microcebus murinus), a Non-human Primate Model
Robens, A.; Rutten, K.; Schiene, K.; Pasqualon, T.; Christoph, T.
Burrowing as a Non-reflex Behavioral Readout for Analgesic Action in a Rat Model of Knee Joint Arthritis 
Robinson, L.; Plano, A.; Goonawardena, A.; Platt, B.; Riedel, G.
Modulation of Sleep-Wake Cycles in Mice and Rats with Cannabinoids 
Robinson, L.; Riedel, G.
Comparison of Home-Cage Activity Systems Using Transgenic Mouse Lines and Pharmacological Interventions
S
Salvetti, B.; Becchi, S.; Schio, F.; Moscardo, E.; Bertini, G.; Fabene, P.F.; Osculati, F.
Evaluation of Alterations in Behaviour, Cognition, and Neuronal Excitability Induced by Administration of QTracker® 800 Quantum Dots 
Schaap, M.W.H.; Arndt, S.S.; Hellebrekers, L.J.
Measuring Pain-Related Behaviour in Four Inbred Rat Strains. Differences in Hot Plate Behaviour 
Schakman, O.; Zanou, N.; Shapovalov, G.; Gallo, C.; Dietrich, A.; Lebacq, J.; Ruegg, U.; Birnbaumer, L.; Gailly, P.
In Vivo Characterization of the Role of Trpc1 Channel in Skeletal Muscle Function 
Seffer, D.; Schwarting, R.K.W.; Wöhr, M. 
Ultrasonic Communication in Rats: Insights from Playback Studies 
Shaaban, K.
On Road Observational Survey of Seat Belt Use Among Young Drivers in Qatar
Shaaban, K.
Studying Driver's Lane Changing Behavior Under Heavy Traffic Volumes
Slabbekoorn, H. 
Measuring Behavioural Changes to Assess Anthropogenic Noise Impact in Adult Zebrafish (Danio Rerio) 
Slabbekoorn, H.
Measuring Behavioural Changes to Assess Anthropogenic Noise Impact on Singing Birds 
Sluis, F. van der; Dijk, E.M.A.G. van; Perloy, L.M.
Measuring Fun and Enjoyment of Children in a Museum: Evaluating the Smileyometer
Smets, N.J.J.M; Neerincx, M.A.; Looije, R.
Measuring User Behavior in a Complex USAR Team Evaluation 
Solanas, A.; Selvam, R.M.; Navarro, J.; Leiva, D.
Some Common Indices of Group Diversity: Upper Boundaries 
Solati, J.; Moll, G.H.; Dawirs, R.R.; Golub, Y.
Effects of Maternal Infection on Anxiety and Depression-like Behaviours of Offspring 
Spek, E.D. van der
Effects of Playing a Serious Game: A Comparison of Different Cognitive and Affective Measures 
Spruijt, B.M.; Heer, R.C. de
A SWOT Analysis on Automating "Measuring Behaviour"
Stover, K.R.; O'Leary, T.P.; Brown, R.E.
A Computer-Based Application for Rapid Unbiased Classification of Swim Paths in the Morris Water Maze
Stover, K.R.; O'Leary, T.P.; Brown, R.E.
A Computer-Based Application for Rapid Unbiased Classification of Swim Paths in the Morris Water Maze (poster)
Sutcliffe, J.; Hutcheson, D.
Perspectives on the Non-Human Primate Touch-Screen Self Ordered Spatial Search Paradigm 
T
Talpos, J.C.
The Development of a Diverse Battery of Behavioral Tasks Using Touchscreen Equipped Operant Boxes for the Study of Cognition in the Rodent 
Talpos, J.C.
Pharmacological Manipulation of a Rodent Paired Associates Learning (Pal) Paradigm, and other Tasks for Use in Disease Research
Tang, T.; Huang, S.
Development of a Scale for Fast Screening of Fatigue Syndrome from Mental Illness 
Tarragon, E.; Lopez, L.; Ros-Bernal, F.; Yuste, J.E.; Ortiz-Cullera, V.; Martin, E.; Schenker, E.; Aujard, F.; Bordet, R.; Richardson, J.C.; Herrero, M.T.
The Radial Arm Maze (RAM) for the Evaluation of Working and Reference Memory Deficits in the Diurnal Rodent Octodon degus
Teijlingen, W. van; Broek, E.L. van den; Könemann, R.; Schavemaker, J.G.M.
Towards Sensing Behavior Using the Kinect 
Trecker, A.; Robbins, T.W.; Mar, A.C.
Development of a Visual-guided Probabilistic Selection Task for Rats 
Tsoneva, T.; Garcia-Molina, G.
The Neural Origins and Applications of Human Error Processing 
Tucci, V.
Home-cage Automated Cognitive Phenotyping in Mice
Tucci, V. 
Sleep, Circadian Rhythms and Interval Timing 
U
Ugille, M.; Moeyaert, M.; Beretvas, S.N.; Ferron, J.; Noortgate, W. van den
Multilevel Meta-Analysis of Single-Subject Experimental Designs 
Uyl, M. den
Watching People Making Errors: Vision Architectures for Monitoring Task Performance 
V
Vanderschuren, L.J.M.J.; Achterberg, E.J.M.; Baarendse, P.J.J.; Damsteegt, R.; Kerkhof, L.W.M. van; Trezza, V.
Studying the Neurobehavioral Mechanisms of Social Behavior in Adolescent Rats 
Vijgh, B. van der; Beun, R.J.; Werkhoven, P.
Controlled Game-Based Stress Manipulation 
W
Walker, D.J.; Keay-Bright, W.; Cobner, D.
Autism and Somantics: Capturing Behaviour In The Wild 
Weegen, S. van der, Verwey, R.; Spreeuwenberg, MD.; Tange, H.J.; Weijden, T. van der, Witte, L.P. de
It's LiFe!: A Monitoring- and Feedback Tool to Stimulate Physical Activity, Embedded in Primary Care 
Weiss, O.; Keren, H.; Mort, J.; Eilam, D.
The Difference Between Sport Rituals, OCD Rituals, and Daily Routines: The Possible Adaptive Value of Seemingly Unnecessary Acts 
Weiss, S.; Yaski, O.; Blumenfeld-Lieberthal, E.; Portugali, J.; Eilam, D.
Application of a Network-Analysis Algorithm for the Definition of Locations in Open Field Behavior: How Rats Establish Behavioral Symmetry in Spatial Asymmetry 
Westerink, J.; Boxtel, A. van; Fitzpatrick, G.; IJsselsteijn, W.; Janssen, J.; Ouwerkerk, M.; Overbeek, T.; Slovak, P.; Vries, G.J. de; Zwaag, M. van der 
Unobtrusive Emotion Sensing in Everyday Life 
Wicke, K.M.; Gross, G.
NMDA Receptor Antagonists Induce Antidepressant-like Sleep Changes: A Translational Model from Rats to Humans? 
Winter, J.C.F. de; Leeuwen, P.M. van; Happee, R.
Advantages and Disadvantages of Driving Simulators: A Discussion
Wöhr, M.; Gaalen, M. van
Social Behavior and Communication – From Mice to Primates 
Wöhr, M.
Ultrasonic Communication in Mouse Models of Autism 
Wolfer, D.P; Voikar, V.; Vannoni, E.; Colacicco, G.; Lipp, H.P.
Mouse Phenotyping in the IntelliCage: From Spontaneous Behavior to Cognitive Function
Wouters, P.
Structural Knowledge Assessment: Change in Cognitive Structure Due to Playing a Serious Game 
Y
Yachmennikova, A.A.; Poyarkov, A.D.
How to Describe the Process of the Establishment of a Social System Within a Wolf Pup Model Group Using Traditional Ethological Indexes and the Detection of Hidden Patterns 
Z
Zaman, B.; Abeele, V. vanden
Player-Centric Game Design: Adding UX Laddering to the Method Toolbox for Player Experience Measurement 
Zee, E.A, van der; Riedel, G.; Postema, F.; Venema, B.J.; Keijser, J.N.
Whole Body Vibration and Spatial Learning: c-Fos and ChAT as Neuronal Correlates of Cognitive Improvements
Zon, G.D.R.
Selection of a Measurement Battery for Human Behaviour Assessment in Serious Games in the Aviation Domain
Zulu, H.
Performance of Rural and Urban Adult Participants in Neuropsychological Tests in Zambia