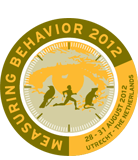 You are here
Exhibition & Sponsoring
Measuring Behavior 2012 will be an ideal opportunity to show your products and services to a group of dedicated researchers and scientists.
We expect some 400 highly qualified researchers in the broadest range of behavioral disciplines, including behavioral neuroscience, cognitive, developmental or social psychology, consumer behavior researchers, psychiatry, psychophysiology, usability and human factors research, public safety, smart homes, movement science, ethology, behavioral ecology, neurotoxicology, etc. Each of them has an explicit interest in scientific data collection and analysis.
There will be several ways to show your products and services.