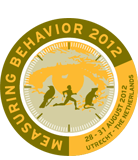 You are here
Venue
Utrecht, The Netherlands
Measuring Behavior 2012 will held in Utrecht, situated in the heart of the Netherlands.
Utrecht, home to the Netherlands' largest University, has been an international junction for hundreds of years. Centrally located and easy accessible, the mediaeval city is well known for its cultural historic sites and varied natural surroundings. 
Venue
Utrecht University
Educatorium (Leuvenlaan 19)
Marinus Ruppert building (Leuvenlaan 21)
3584 CE Utrecht
The Netherlands
The conference takes place at De Uithof is the campus area of the Utrecht University. Utrecht University, founded in 1636, is a globally leading university that is ranked according to the Shanghai Ranking of World Universities:
1st in the Netherlands 
12th in Europe
48th in the world
Some of the buildings on De Uithof have an unusual architecture. The Educatorium, which was designed by OMA from Rem Koolhaas, contains a glass-bottomed walking bridge and circular walls. It's the first University building that OMA ever designed.
More information on the venue is available at the University's website:
http://www.uu.nl/university/utrecht/EN/factsandfigures/Pages/default.aspx?refer=/EN/utrechtuniversity/factsandfigures
Or take a look at this site for more details:
http://www.galinsky.com/buildings/educatorium/index.htm
Contact and route