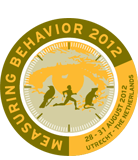 You are here
Practical Information
Language
The official language at the conference is English. The local language is Dutch, but most residents of Utrecht speak English.
Identification
In The Netherlands, you are obliged by law to carry photographic identification (e.g. a passport).
Parking
You can park your car in one of the car parks (see map on page 141). You can buy parking tickets (€ 10,- per day) at the registration desk.
Liability and insurance
The conference fees do not include provisions for the insurance of participants against personal injuries, sickness, theft or property damage incurred during the conference. It is recommended that delegates make prior arrangements for health, accident and other insurance they deem necessary. Neither the Conference Organization nor its sponsors are responsible for any loss, injury or damage - however caused - to persons or belongings.
Credit cards
All major hotels and most restaurants accept credit cards.
Currency exchange and ATM machines
Currency can be exchanged at banks, post offices, and airports. Opening hours are generally from 9:00 to 17:00 on working days. There are ATM machines throughout the city of Utrecht. There are also two ATM machines near the conference centre at Heidelberglaan 1 and Heidelberglaan 2.
Internet facilities
Free wireless internet is available at the conference centre.
Electricity
Electricity is supplied at 230V (50 Hz) everywhere in The Netherlands. Adapters may be required for your personal equipment.
Lunch
A light lunch is included in the conference fee and will be served daily between 12:30 (12:50 on Friday) and 14:00 in the Foyer and the area Urban 2 on the first floor of the Educatorium.
Please take your coffee and lunch from these locations, since there is another conference going on in the same building during Measuring Behavior 2012. You can buy hot meals in the restaurant on the ground floor of the Educatorium.
Coffee and Tea breaks
Coffee and tea, and other refreshments are free of charge during coffee and tea breaks:
Tuesday 10:30-11.00 and 15.30-16.00
Wednesday 10:40-11:10 and 15:40-16:10
Thursday 10:40-11:10
Friday 10:40-11:10 and 15:20-15:40
Transport and Tourist information
The easiest way to get to the city centre is by bus: There are direct bus connections (lines 11, 12, and 12S) between De Uithof and Utrecht central railway station. Busses run frequently throughout the day. Tickets for the bus can be bought from the bus driver. You can also buy a public transport chip card (OV-chipkaart). This card works in the entire country. You can buy an anonymous OV-chipkaart at railway station ticket offices and at the Primera shop on De Uithof (Coimbrapad 6-8).